Creative Writing Courses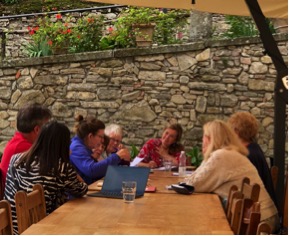 IT is a fact that still surprises me but I have been a writer for more than fifty years, having written my first play when I was six years old. It was called The Queen's Birthday Cake and won a school competition.
Since then I became a journalist, a novelist, a biographer, an historian, and a ghostwriter. The topics of my books have been anything from the Holocaust to celebrity memoirs; from shaggy dog stories to books about mindfulness; from poignant tales of people stricken with Alzheimer's, disabled in a crash or wrongfully imprisoned, to memories of war years and the history of PTSD.
Strangely, it never occurred to me until relatively recently that this wealth of writing experience across five decades might be of interest – or use – to those who aspire to be writers too. That was, until the prestigious Ways with Words literary festival invited me to teach students at their autumn venue in Umbria at the beautiful Villa Pia.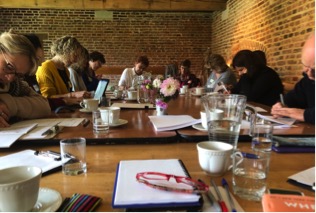 Much to my surprise, I found that teaching came very naturally to me, and that my pupils were receptive and engaged. The oldest was 88 and the youngest in her fifties. Over the course of a week, I saw these women (and one man) develop their talents with my help, through group lessons and private tutorials in what turned out to be as rewarding for me as it was for them.
By the time the course ended I was hooked – and to my delight – was invited back the following year after the feedback was so positive.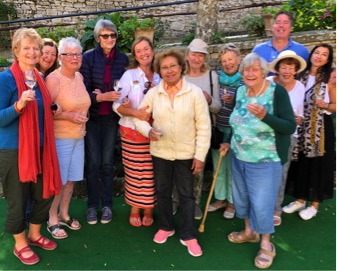 Finding the time in what has been a very busy year, I also accepted a similar offer from the Chorleywood Literary Festival and in 2019 held my first two-day creative writing course in the exquisite setting of historic Chenies Manor in Buckinghamshire. Once again I had a full complement of students within weeks of advertising and, yet again, I found myself enriched by the experience.
These men and women from all walks of life and of all ages displayed varying degrees of aptitude but all of them made an invaluable contribution to the class. I spoke to them about everything from structure and plot to dialogue and character, using examples from my own work and from authors who, I admired, and some that I do not. I then set them exercises in which they were sent away to write for short periods before coming back to share their work with the group. This is my favourite part – watching characters and adventures burst from their imaginations triggered by a simple sentence or idea. They are often as surprised as anyone by what emerges and, before they know it, they discover that they truly
are writers.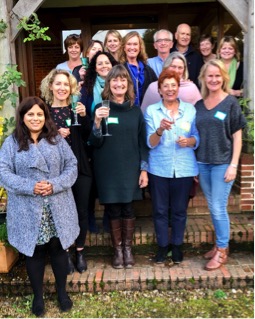 In 2020, I have more courses booked – a memoir course at the Emirates Literary Festival in Dubai in February and a more general creative writing course at Chenies Manor in April. In February 2020 I shall be teaching my first creative writing course at the beautiful Arts and Crafts manor house Voewood in North Norfolk, and I am working on setting up others soon in Suffolk, London and Italy. You can contact me via the Info page on this website for prices and availability. I am looking forward to meeting future students and welcoming back some of my previous ones.
Happy writing!
Testimonials
"Wendy is a warm and friendly teacher, bursting with ideas, who never seems to run out of energy however hard she works. She is a very experienced writer who creates an atmosphere which makes work feel like fun and learning a simple process of absorption. Her teaching is clear and enthusiastic and her examples, both interesting and relevant, help to get her message across. Her writing courses are in a class of their own." Jenny Baker, amateur writer
"This was my first residential creative writing course and I cannot begin to tell you how inspiring Wendy's course was. Since I have been back I cannot stop writing. It was an amazing experience, one I will never forget. Her future students will be very fortunate to have such a talented teacher."
Loraine Fowler, first time writer
"Wendy welcomes the group with the warmest smile. Her busy sessions are lively and productive.
Always encouraging, she praises where it is due, but explains with great clarity those areas needing further attention." Mary Knott, artist
"I have been on several other creative writing courses but this was, without doubt, one of the best. Wendy was firm but kind and inspired me to create stories out of nowhere that improved my writing skills." Martin
"Wendy is a talented and supportive teacher. She comes up with creative and stimulating ideas for exercises, and always manages to say something positive and encouraging about one's work. One of the things I most liked about her course was the laughter, but also the sympathetic silence when something serious emerged." Christine Rafaat, published author
"Wendy was so easy to learn from and really helped me get to grips with the overview of my story – giving it a beginning, a middle and an end in a way I hadn't managed before. This gave me the confidence to carry on." Lin
"Wendy's enthusiasm for writing is inspirational and has stayed with me long after the end of the course." Mary Robinson, published poet
"All my life I have been told repeatedly that I must write. I was at sea. Wendy lifted my anchor and now I go forth with hope." Emma Hazarika, surgeon
"Having been on many writing courses and done an MA in creative writing, I can honestly say that Wendy is one the best tutors I have had. Her enthusiasm, encouragement and ready smile are incomparable and her critiquing of students' work is incisive and positive. Highly recommended!" Janet Denny, published author