Tomorrow Will Be A Good Day
Captain Tom Moore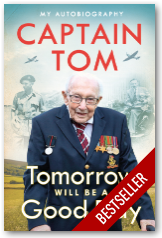 Captain Tom Moore was an inspiration. At the height of the Covid-19 pandemic in April 2020 this 99-year-old Second World War veteran came up with a big idea: he'd walk as many laps of his garden as he could manage to raise money for the NHS. Despite using a walking frame as well as having recent treatment for cancer and a broken hip, he was determined to hit £1,000 by his 100th birthday three weeks later. By the time the telegram from the Queen arrived, he'd raised almost £40 million.
In this, his official autobiography, he tells of his long and dramatic life. How his spirit was forged on the battlefields of Burma where victory was snatched from the jaws of defeat. How his love of motorbikes got him through some of his darkest days. How, in his 90s, he took off for the Himalayas and Everest simply because he'd never been. And, finally, how this old soldier came to do his bit for the NHS, becoming the nation's hero in our darkest hour.
A modest, decent, charming man with a can-do attitude and a twinkle in his eye, Captain Tom's story - published just a few months before his death at the age of 100 - is that of a man whose insatiable curiosity and appetite for life have led him around so many unexpected corners - finding both adventure and joy. He only wanted to help other people - and yet he inspired a nation to believe anything is possible by reminding us all it is never, ever too late.
What the Critics Say
"A riveting account. Tom is as sharp as a bayonet . . . This old soldier should never, ever fade away in our memory. Neither should his life advice." --- Daily Express
"Engaging . . . His upbeat nature shines through and reminds us how much worse this year would have been without him." --- Evening Standard
"A wonderful life story with lessons for us all . . . beautifully written." --- Daily Telegraph
"A great book." --- Good Morning Britain
"A wonderful read. Captain Tom is a beacon of light, and hope, and positivity." --- Piers Morgan, Life Stories, ITV
"Fascinating. It's the life story of an ordinary man who is extraordinary." --- Michael Ball, BBC Radio 2
"A beautiful book. We have so much to learn from Captain Sir Tom." --- Chris Evans, Virgin Radio
"Captain Tom Moore's charming autobiography is an inspiration . . . A great personal history of the past century, and we can all learn something from Captain Tom." --- Woman's Weekly