One Hundred Miracles
Zuzana Ruzickova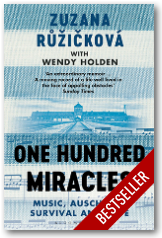 Zuzana Ruzickova's story, told here in her own words before her death in 2017, is a profound and powerful testimony of the horrors of the Holocaust, and a testament to the importance of amplifying the voices of survivors. It is also a joyful celebration of art and resistance that defined the life of the `first lady of the harpsichord'- a woman who spent her life being ceaselessly reborn through her music.
In 1939, Zuzana's peaceful, melodic childhood in Czechoslovakia was torn apart by the Nazis. Uprooted from her home, she was transported from Auschwitz to Hamburg to Bergen-Belsen, bereaved, starved, and afflicted with crippling injuries. Yet with every truck and train ride, a small slip of paper featuring her favourite piece of Bach's music became her talisman.
Armed with this, Zuzana's bravery and passion ensured her survival and continued to sustain her through post-war Communist rule. Fortified by the love of her husband, the Czech composer Viktor Kalabis, Zuzana went on to become one of the twentieth century's most renowned musicians and the first harpsichordist to record the entirety of Bach's keyboard works.
What the Critics Say
"An extraordinary memoir.. a moving record of a life well lived in the face of appalling obstacles." --- Sunday Times
"Zuzana's humanity shines through all the inhumanity. Vivid and moving." --- Jewish Chronicle
"Although many of these episodes were all too common, Ruzickova's singular brilliance ensures that this could be no one else's story." --- Spectator
"A compelling story of terrible suffering surmounted by incredible bravery." --- Daily Telegraph
Alternate/Foreign Covers
| | | | |
| --- | --- | --- | --- |
| | | | |
| German | Czech | UK hardback | Portuguese |
| | | | |
| --- | --- | --- | --- |
| | | | |
| Dutch | Dutch eBook | Polish | Brazilian |
| | | | |
| --- | --- | --- | --- |
| | | | |
| Slovakian | | | |