The Cruelty of Beauty
I Krása Müže Zabíjet
Wendy Holden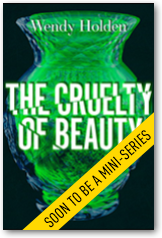 A beautiful glassmaker. Two damaged men who love her. Set alternately in exotic Bohemia and in the wilderness of an English coast, it is a story of obsession and passion and fear…
WHEN author Ben meets a Czech glassmaker named Katerina at a London art gallery he quickly falls under her spell and they become lovers. The exotic beauty reveals little of herself, however, even after he discovers that she is pregnant and moves into her remote cottage to finish his novel.
In an earlier, alternate narrative, Lukas - a former member of the Czech secret police – finds employment at the glassworks in rural Bohemia where the flame-haired Katerina and her father make beautiful objets d'art. Smitten by his boss's daughter, Lukas's obsession only deepens and his jealousy grows when she is drawn into a group intent on opposing the Communist regime. After a series of shocking events, Lukas is left alone and bereft when Katerina unexpectedly defects to the UK.
Fleeing to the wild beauty of North Norfolk coast, Katerina throws herself into her glassmaking and enjoys a deepening friendship with a woman named Willow. Her pregnancy drains her, while Ben struggles with his writing - and his past. Katerina finally reveals something of her troubled history before giving birth to a son, but the arrival of the baby only puts further distance between them.
The two worlds fatally collide when following the fall of Communism in Czechoslovakia the obsessive Lukas, recently released from a long incarceration, tracks Katerina down to the windswept English coast determined to get to her, before it's too late...
Read an extract from this book
What the Critics Say
"This book is two books in one - two intertwining stories that could be read separately. An amazing writing art." --- Amazon
"A page-turning read." --- Databaze.CZ
Alternate/Foreign Covers
| | | | |
| --- | --- | --- | --- |
| | | | |
| Czech | | | |
Read an Extract
"I SOMETIMES wonder how many breaths she squandered creating her pieces of glass. Her copper-coloured hair scraped back from a face flushed red from the heat of the furnace, she'd stand legs slightly apart, her body wiry under her dungarees, before leaning back and expelling one quick breath at a time down the shaft of her blowing iron. Holding the end with her thumb, she'd watch and wait for the bubble of air to reach the orb of molten glass that swirled and spun like a living thing.
Swelling with each new puff, the evolution of every creation was like a mother giving birth to a child - breath by tiny breath. Even now, when I hold one of her progeny in my hand, allowing my fingertips to run over its iridescent surface – rock hard and unassailable – I imagine that her breath still trapped within, frozen in time. Like a fly in amber.
Placing my mouth against it, I kiss the piece with the tenderness I wish I'd shown her in life; but the coldness against my lips only reminds me of death. Bitter at the thought, I fight the temptation to snap it in two and suck greedily at the tiny pocket of air she so recklessly relinquished. Instead, my hands trembling, I return it carefully to its rightful place in one of the cabinets I had specially made to exhibit the last remaining pieces of her work. Sitting alone before them in the eerie ultraviolet light that best sets off their strange luminescence, I am transported to the moment she gave each of them life. To a time when I was happy.
Now, they are all I have left, these perfect bubbles of glass. Each one a single, crystallised breath of the only woman I ever loved. The woman I killed for love………"