Waking Ned
Wendy Holden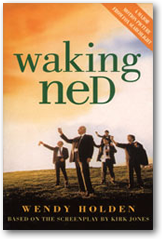 Original novelisation of the hilarious comedy film about everyone's dream – to win the lottery.
There are just fifty-two inhabitants of the small southern Irish village of Tullymore, so when retired farmer Jackie O'Shea learns by accident that one of them has won the lottery, he and his old friend Michael O'Sullivan decide it should not be too difficult to find the mysterious winner and share in their jackpot.
After following a series of false leads they are shocked to discover the winner's true identity. But the end of their search marks the beginning of their problems, as they embark on a complicated scam that, in their fragile grasp, quickly threatens to spiral out of control. Flying by the seat of their pants, lurching from one unforeseen crisis after another, they eventually realise that they will have to involve the whole village if they are to succeed. It is a move which will change the tiny community forever. The events that ultimately unfold in this gripping novelisation by Wendy Holden, based on the screenplay by Kirk Jones, are even more heart-stopping than winning the lottery itself….
Read an extract from this book
Alternate/Foreign Covers
| | | | |
| --- | --- | --- | --- |
| | | | |
| Chinese | German | | |
Read an Extract
Glancing across at her husband's familiar profile in the living room, Annie sighed. That large nose, the proud chin, those steel grey eyes. His deeply lined jowls didn't disguise the face of the young man she had fallen in love with thirty-five years ago at the Tullymore Christmas ceilidh. He was one of the many bachelor farmers who put on their Sunday best, complete with cloth cap and Wellington boots, and came down from the hills to attend the regular village evenings of singing and dancing in the undisguised quest to find themselves a wife. That night he had twirled and spun her around the straw-strewn floor of the village barn until her head swam and her polka-dot skirt flared out at her waist.
As three stout musicians sat on stools with their fiddles, in whistles, uillean pipes, accordions and drums, playing age-old Irish tunes and exile songs with a steady foot-tapping beat, she had felt the pounding in her heart and knew it wasn't just the rhythm of the ballads. Laughing louder than any man she had ever heard, his head thrown back, his eyes twinkling with mischief, Jackie O'Shea had captured her heart with his charm. He, in turn, had set his cap at the young Annie Daly and would not be diverted from his course…
Jackie's eyes could still light up in the same way as they had the first night they met, and each time they did, Annie's heart was lost to him once more. Watching him from the kitchen table now, she smiled as she saw his eyes sparkling at the television screen. He was like an excited little boy as he watched how, on the press of a button, the lottery balls dropped out of the selection machine and down the chute as if in slow motion. Entering the drum, they exploded iinto life, ricocheting and cracking into the glass case with a tremendous clatter. Spinning round and round, faster and faster, they mesmerised Jackie O'Shea, and he sat hypnotised in his armchair, his lips moving quickly and silently as he willed the numbered balls he had chosen to win for him tonight. It was the only time Annie ever saw him pray…
What the Critics Say
'A happy and well-written reminder of one of the year's most endearing films, with much more besides' Sunday Express