Public Speaking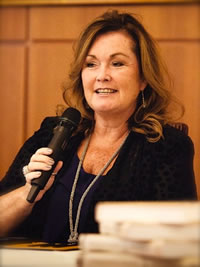 SPEAKING publicly about my books comes as naturally to me as it would a mother talking about her own children - I know each one so intimately. From addressing the great and the good in Parliament to speaking to WI's and schools, I love sharing the remarkable stories of those whose lives I've been privileged enough to chronicle. My latest tour promoting my international bestseller Born Survivors has so far taken me to thirteen countries in the past year. Alone or accompanied by one or all of the miracle 'babies' about which I write, I have appeared on national and local UK television and radio stations including BBC Breakfast, BBC Radio 2's Clare Balding Show, BBC Radio 4 Woman's Hour, plus national and local TV and radio shows across Europe and America, as well as selling out at every event from museums to churches, synagogues to literary festivals, book signings, women's lunches, book clubs, embassies, and public schools. In January 2016, along with Eva Clarke I was invited to deliver the prestigious annual Lord Merlyn Rees Memorial Lecture at the House of Lords.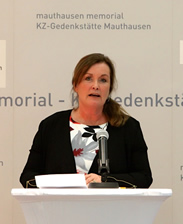 My talks are varied and numerous, reflecting the broad spectrum of my work. In my talk Sinatra and Martin: Inside The Rat Pack I reveal what it was like to live with these two singing legends as told by Frank's widow, Barbara, and Dean's daughter Deana. In Heroines of War, I report on the only woman in the French Foreign Legion, a brave female Jewish spy who went behind enemy lines; and sum up the story of three young mothers who hid their pregnancies from the Nazis. Born Survivors, about my most successful book, takes the audience far deeper into those three life-changing Holocaust stories, and Shell Shock explains how early treatment of post traumatic stress disorder in men fresh from the First World War trenches shaped modern day psychiatry.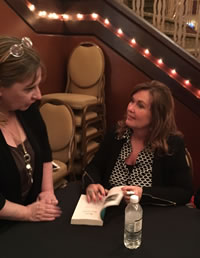 My repertoire also extends to Animal Rescue – How Dogs Save Us, featuring my heartwarming bestsellers Haatchi & Little B, Uggie: My Story, and Mr Scraps, about three remarkable rescue dogs and how they transformed the lives of the humans who saved them. For those seeking peace of mind and inner happiness I offer Golden Moments of Joy and Mindfulness, detailing the way in which how we act, think and even speak can have a direct influence on our general wellbeing. Finally, in Nedi and Bumps, I speak of the endearing relationship between the young British architect Sir Edwin Lutyens and the veteran garden designer Gertrude Jekyll who together designed some of Britain's most beautiful country houses and gardens.
Whichever talk most appeals to you and your group, I look forward to sharing it with you in person or – for those far away - via the wonders of video technology. Please click on the link below for further details and the Contact form to ask about pricing and availability.
Many thanks.