10 Mindful Minutes
Goldie Hawn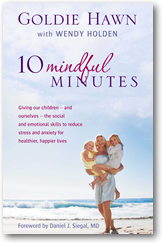 Driven by her commitment to the welfare of children and her life-long interest in the practice of mindfulness, Goldie Hawn established the Hawn Foundation to support and develop ways to help children become emotionally healthy and eager learners who can reach their full potential.
As practical as it is inspiring, 10 Mindful Minutes embodies the essence of the MindUP program the Foundation devised to offer simple techniques like mindful breathing and thinking. By showcasing the work of some of the leading minds in neuroscience and behavioural studies, this book shows parents and children alike how to focus on positive feelings that will lead to emotionally healthy and happy lives.
After reaching No 3 in the New York Times bestseller list, Ten Mindful Minutes remained in the top ten of books on parenting and was then published in the UK.
Read an extract from this book
Alternate/Foreign Covers
| | | | |
| --- | --- | --- | --- |
| | | | |
| US | Hungarian | German | Polish (Paperback) |
| | | | |
| Chinese | Chinese (Paperback) | Audiobook | Polish (Paperback) |
Read an Extract
Really Looking
Gather together a few pebbles that look much the same and put them in a box or a paper bag. You could also use leaves, buttons, flowers, or anything that has a similar appearance. Ask your child to reach into the box or bag and pick one of the objects. Pick one yourself and do the exercise as well.
Encourage your child to be as quiet and still as possible and then study the object. What does it look like? What colors or markings can he see? Is it smooth or rough? If his mind wanders, tell him that it's okay. Encourage him to bring his attention back to his object and continue noticing everything about it.
Put your objects back in the box or bag. Shake it up. Tip the contents onto the floor and ask your child to try to find the object he was just holding. How easy was it to pick out on the floor? Was it hard to stay focused on it? What did he notice about mindful seeing? Tell him what you noticed, too.
Be An Explorer Of The World
Take your child out into the yard or to a park. Maybe sit on the front porch. You can also do this indoors if you want. Either way, it's a fun game to play. Once she is quiet and settled, ask her to look around as if she were seeing everything for the first time. Have her pick one object, focus on it for a few minutes, and not say what it is. Close your eyes and have your child describe her object to you. See if you can guess what it is. Take turns picking objects and guessing.
Eye Spy
Try to incorporate mindful seeing into your daily routine. You can play this game on the way to school or the grocery store or perhaps when walking to a friend's house.
Get your children to look around them. Ask them to talk about what they see and point out things they never noticed before. Share your own thoughts.
What the Critics Say
Hawn's gentle, heartfelt approach to mothering and her mission to help children develop happier, healthier lives will be both useful and inspiring for parents. - Publishers Weekly
Goldie Hawn embodies delight and joy, and 10 Mindful Minutes radiates these. Her book can help any adult – parent, grandparent, teacher – make double use of their moments with the children they love and have a terrific time while helping shape that child's brain for a lifetime of resilience and happiness. - Daniel Golemann author of Emotional Intelligence
An excellent guide that offers simple, effective ways for stressed parents to create calmer, kinder, happier families. - USA Today
This is a remarkable book. It is full of wisdom for us all - parents and other caregivers - inviting us to taste mindfulness for ourselves. - Mark Williams Director of University of Oxford Mindfulness Centre and author.