Love and Fashion: A Memoir of a Male Model
Bruce Hulse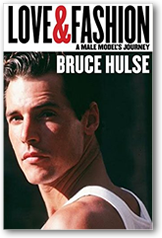 A top fashion model confesses the inside tales of the extreme excess and indulgences and reveals how he awakened to the meaning of real beauty.
You may think you've heard everything about the modeling industry from Tyra Banks and others, but "Love & Fashion" is the real behind-the-scenes scoop on male modeling from an insider. In the glamorous galaxy of modeling, Bruce Hulse was a supernova. Taken under the wing of famed photographer Bruce Weber as a fledgling model, Hulse went on to collaborate with the industry's biggest names internationally and is now considered one of the top ten male models of all time.
In the 1980s and 1990s, the exciting world of top models was filled with sex, drugs, and countless other indulgences. It was an era that soured with the loss of many to the newly discovered AIDS virus and Bruce Hulse had to navigate the waters of loss and love as one of the most recognizable figures of that time; from his iconic Calvin Klein and Levi's ads to his appearance on the cover of GQ. His face defined an era. In "Love & Fashion", Bruce shares the true stories of his globe-trotting career working with some of the industry's biggest names – Calvin Klein, Janice Dickinson, Herb Ritts, Elle Macpherson, Andie MacDowell, Paulina Porizkova, and Cindy Crawford among them – and he details the exhilarating successes and painful failures he experienced on his climb to the top. Bruce Hulse pulls back the curtain on the life of an international supermodel and reveals everything the cameras don't expose. "Love & Fashion" is a dishy, sexy, and honest look at what really happens to beautiful people playing in the often decadent fields of fashion glory. In this updated edition, which includes a bonus Epilogue, Bruce Hulse revisits his life where his memoir ended, as a successful model of age. While most models fade away with age, Bruce's career continues to thrive. And while living through many perils, Bruce tells, for the first time in print, of his recent near-death experience that forever changed his life. Hulse comments that he not only is a survivor, but first and foremost - a model. Older, grayer, and without a doubt – wiser.
Read an extract from this book
Read an Extract
"THE ocean glittered like a million tiny diamonds in the Mexican sun. The beach was gold, the sky sapphire blue. I stood barefoot in the hot sand, my head thrown back in the light breeze as I responded to the direction of the photographer for GQ magazine. I felt relaxed and confident as she asked me to turn this way and that - to bend, to smile, to hold the pose. An experienced professional at the top of my game, I was doing a job I adored in an impossibly spectacular setting: a secluded palm-fringed cove on the edge of the Pacific Ocean.
"Now I'd like some shots of you bodysurfing, Bruce," the photographer told me. I smiled. I was looking forward to washing off the gritty mix of sand and suntan lotion, and I couldn't imagine a better way. I'd loved to surf since I was a teenage lifeguard in New Jersey; it came as naturally to me as breathing.
I ran into the water in my swim shorts and began riding the waves as the photographer's SLR clicked and whirred. For a moment, I completely forgot that this was how I earned my living. I felt like carefree kid again, a basketball star and straight-A student, surfing on Avalon Beach with my buddies in the early Seventies, living in a ramshackle house in the dunes, drinking beer, and hooking up. "
What the Critics Say
"The book is an enjoyable, easy read filled with lots of sexual encounters….the book also offers a critical, philosophical look at the culture of modeling." Business Model Magazine
"A favourite of photographer Bruce Weber and über-designer Calvin Klein, Hulse was the chiseled, muscular, heavily oiled and mainly nude protagonist of high-end fashion ads for years." The Guardian