Born Survivors
Wendy Holden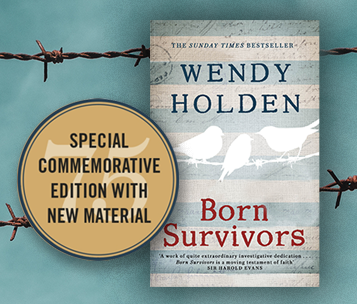 Three women pregnant by their husbands.
Three couples praying for a brighter future.
Three babies, born within weeks of each other in the most horrendous of circumstances.
By the time they arrived, weighing just three pounds, their fathers had been killed by the Nazis and their mothers were 'walking skeletons' living moment to moment in the same concentration camp.
Somehow, all three women managed to survive.
Against all the odds, their babies did too.
Seventy years on and now living in Britain and America, these 'siblings of the heart' have come together for the first time to tell the remarkable stories of the three mothers who defied death to give them life.
All of them, born survivors…
Available in Hardcover from May 7, 2015.
Alternate/Foreign Covers
| | | | |
| --- | --- | --- | --- |
| | | | |
| US | German | Dutch | Danish |
| | | | |
| Spanish | Italian | Polish | Swedish |
| | | | |
| French | Portuguese | Slovakian | Brazilian |
| | | | |
| Finnish | UK Paperback | UK Large Format | Dutch Paperback |
| | | | |
| Czech | US Paperback | US Audiobook | Brazilian Paperback |
| | | | |
| Russian | Chinese | Hungarian | UK Hardback |
What the Critics Say
"An exceptionally fresh history, a work of prodigious original research, written with zealous empathy." New York Times
"A work of quite extraordinary investigative dedication… Married to (the) narrative skills, Born Survivors is a moving testament of faith." Sir Harold Evans
"An incredible true story… In this meticulously detailed account, Holden compiles an enormous amount of information… The graphic history places readers in the moment and the story's truth is chillingly portrayed. An engrossing, intense, and highly descriptive narrative chronicling the ghastly conditions three pregnant women suffered through at the hands of the Nazis." Kirkus Reviews
"Holden weaves.. written, oral and recorded accounts, plus an array of historical records, into a spellbinding story of perseverance amid systematic abuse." American Jewish World