The Sense of Paper
Taylor Holden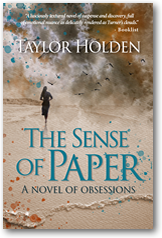 Charlie, a war correspondent turned author, haunted by her worst journalistic experiences, turns to the history of paper and the materials of JMW Turner to distract her from the ghosts of her past. Her research brings her into contact with Alan, a highly successful artist and Turner scholar. She falls under his seductive spell, only to discover that Alan has plenty of ghosts of his own.
A book rich in history and war, love and obsession, yet intertwined with a thriller's mysterious undercurrent, this novel is designed to wrong-foot the reader time and again.
Read an extract from this book
Hear the author recite an extract (mp3)
Read an Extract
Charlie sat a few feet away from Alan. As he started to prepare his paper, she watched the rope of tendons in his forearm flex each time he wielded his brushes. He was in surprisingly good shape for someone who, according to his entry in Who's Who, was approaching fifty-five. Slim and supple, he'd aged well and dressed stylishly. Even now, in his sloppiest cardigan and corduroy trousers, the cut of his clothes was unmistakably chic.
By contrast, the detritus of an artist's life lay all around him, here in his Suffolk studio. It had taken all of Charlie's willpower to resist the temptation to try to restore order. Every surface was littered with clutter – twisted pieces of driftwood, shells of all shapes and sizes, bolts of brightly coloured cloth, Victorian bottles, their green glass thick and opaque; a bird's fragile skull, the bleached skeleton of a crab, pebbles, fading velvet ribbon and empty wine bottles, most of them covered in a fine layer of dust.
Arcane scents of turpentine and varnish filled the air. The polished pamment brick floor was splashed with paint, and the tools of Alan's craft - his brushes, palettes, chalks and oils - lay jumbled on a trestle table a few feet from where he stood. An ancient chest occupied one corner of the room, its walnut veneer peeling with age. Its drawers were open and from them spilled scraps of canvas, paper, partially completed sketches, lengths of wood and, Charlie couldn't help but notice, a black lace bra.
Her eyes strayed to the half-finished canvasses and watercolours stacked against the walls. There were tantalising glimpses of sweeping English and foreign landscapes, historic buildings and familiar faces of the great and the good. She knew she was privileged to have access to Alan's inner sanctum like this. Even his housekeeper, Mrs Reeder, was expressly forbidden from entering. Only his cats, Evalina and Georgiana, named after Turner's daughters, were permitted. They sat together now, licking themselves drowsily on a worn rug near his feet, seemingly oblivious to their master's constant movement as he prepared his palette.
'Sir Alan?' a woman's voice called from just outside the door, interrupting them. It was the redoubtable Mrs Reeder, clearly reluctant to step further inside.
'What is it?' Alan snapped impatiently. 'Telephone call,' the disembodied voice replied. 'It's Sarah, your ex-wife. She says it's urgent.'
'It's always bloody urgent,' Alan hissed under his breath, before meeting Charlie's gaze and forcing a small smile. Throwing his palette down, he wiped his hands on a stained rag and stalked moodily from the room.
Idly flicking through one of the dusty art books when he was gone, Charlie came across a plain brown envelope concealed within its pages. The envelope was marked 'Cornwall, 1986' and contained some smudged charcoal sketches. Most of them featured a young girl, no more than eleven, kneeling by a rock pool, focusing intently on a shell, her hair like a curtain over her face. She was naked.
Charlie instantly remembered the sharp, salty smell of the sea, the sand ribbed like the roof of a dog's mouth, and her grandfather's silent presence hunched over his easel nearby. Every contour of the young girl's body had been lovingly drawn, from the moulded skin on her thighs, to her hands, their fingers reaching in wonderment for their prize. Her breasts, not yet fully developed, formed small, soft mounds upon her chest. Her flesh was pure and white. Unsullied. Like paper.
'Once a journalist, eh?' Alan's accusation flew at her from the doorway, making her gasp. 'I wouldn't go digging too deeply around here if I were you,' he added, his expression flickering. 'You might not like what you find.'
'I wasn't digging,' she protested, rising to her feet, the sketches dangling in her hand. 'They fell out of a book and I was admiring them. Who is she?'
In answer, Alan seized the sheets of paper and the envelope and tossed them in a drawer, slamming it shut. The sudden sound sent his two cats flying. 'The daughter of someone I thought I knew,' he replied with surprising coldness, before taking her arm and leading her towards the easel. 'Now, where was I?'
Charlie watched the muscles in his jaw tighten and wondered whether it was the sketches she'd unearthed or the call from his ex-wife that had upset him so….
What the Critics Say
A superior novel of suspense in a well-plotted debut...(Holden) weaves pages of esoteric paper lore into a tale that involves tenuous mental stability and growing mystery. Readers who are interested in art history and artists' lives will find themselves enthralled by the depth and scope of information - Publishers Weekly
"With this appealing debut, journalist Wendy Holden turns to fiction, using Taylor as her first name. Her novel claims historical anchoring with a plot featuring retired war-zone journalist Charlotte (Charlie) Hudson's research of 19th-century British artist JMW Turner's relation to paper. But it is really a romance between Charlie and a famous contemporary artist, Sir Alan Matheson, who shares an obsession with Turner's landscapes..... Charlie is an intriguing figure, haunted by her harsh past and her failed marriage. When Charlie begins investigating the circumstances surrounding the death of her new lover's daughter, the story loses some of its more turgid claims to art and revels in its ability to suspend us for pages in its own thoroughly diverting obsessions." - Library Journal
"(A) lusciously textured novel of suspense and discovery, full of emotional nuance as accurately and delicately rendered as Turner's clouds." - Booklist
"Disquieting...several startling and frightening events in the lives of (these) lovers change them forever." - Armchair Interviews
"Every once in a while I pick up a book by an author totally unknown to me, a book for which there has been no buzz, no recommendation from a friend. Perhaps it's the cover or the title that influences me to choose this one over that. Maybe it's just kismet. Whatever it was that drew me to this book, I am forever grateful… [Taylor Holden's] writing is exquisite—rich and textured… What Holden has done so supremely well… is blend in the rather obscure information about the art of papermaking and the influence this "simple" material had on the artists who used it. This is not a novel that drops in somebody's latest hobby; this is a fine character-driven suspense story that envelopes the reader in a world where passions run deep and hope and life is renewed. It's books like this one that keep me coming back every time...I have the eternal hope that there is another gem like this out there that I may just stumble across when least expected...." - Mystery News
"If you're interested in fine paper or the artist J.M.W. Turner, this is… a must read." - www.bookgasm.com
"Journalist Charlotte Hudson, exhausted, is casting around for her next project when she meets famed though reclusive artist Sir Alan Matheson in a Great Russell St. art supply shop and is smitten with the whole idea of paper--and with Alan. Though it unfolds with a lushly detailed pace, you'll find what follows gripping not just for the story and its wringing suspense, but for its art history and its richly detailed story of papermaking, paper in all forms for all purposes but especially its use in the art of JMW Turner, the controversial Romantic landscape/seascape painter whose life had a seamy side." - The Poisoned Pen
"A fascinating novel - one that will hold your interest throughout the book. The two main characters are well drawn and the reader will feel the mystique and wonder about each of them as they read (on). For anyone who is an art historian, this book will be a double treat. ..An engrossing read and one that I highly recommend. To top it off, it is Taylor Holden's debut novel!" - Bestsellersworld.com
"Taylor Holden weaves a story about papermaking in a novel that will expand your vision and your sense - not only of paper but of some important realities.... After reading her book, the television news soundbites about civilian deaths and injuries in bombing raids and military casualties won't sound the same to you. Holden again and again startles us with how close at hand unexpected. life-extinguishing cruelty can be found, especially in highly politicized countries...Not only will you come away with a greater appreciation for art, you will be prodded to consider love and war and our imperfect selves. But you'll also find reason to hope that, even when life's journey leaves you off balance, you can find your footing." - Asbury Park Press (New Jersey)
"There are many lessons to be learned from this read. Lessons in art history, the process for producing quality handmade paper and the importance of that quality in the production of great masterpieces by artists such as Turner. Through the main characters, we also venture into the realms of obsession, erotic love, war and its consequences, suicide, obsession and death. A remarkable and engrossing story. I doubt if you will find a more interesting and compelling read this year." - Bookworm
Hear an Extract
Alternate/Foreign Covers
| | | | |
| --- | --- | --- | --- |
| | | | |
| US cover | | | |