Footprints In The Snow: How Science Helped Turn Tragedy to Triumph
Julie Hill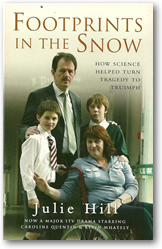 In April 1990, Julie Hill broke her back in a car crash, paralysing her from the waist down. With immense personal courage, humour and an extraordinarily positive attitude she faced the terrible consequences of the accident and the new way of life it imposed on her. She volunteered to become the world's first paraplegic to have a revolutionary electronic device implanted into her spine and attached to the nerves that control her leg muscles.
Julie's story is the unique culmination of thirty years of pioneering British research started by an eccentric Cambridge professor, Giles Brindley. Held together with little more than sticky tape and hope, the implant's predecessors were Heath Robinson creations born out of DIY technology. Now, after acting as a guinea pig for five years and with the devotion and expertise of the bio-medical engineers, surgeons, nursing staff and electronic experts who have made it all possible, Julie can- at the press of a button – stand, step and even go cycling with her children. Furthermore, the research into Julie's nervous system has uncovered remarkable scientific discoveries that require the medical textbooks to be rewritten.
Having overcome pain, frustration and emotional anguish to make medical history, Julie Hill recounts the tale of how she stood on her own two feet once more, and fulfilled her simple dream of once again creating footprints in the snow. Turned into a drama premiere for ITV, starring Caroline Quentin and Kevin Whateley, Footprints in the Snow has become an enduring bestseller.
Read an extract from this book
TV mini-series starring Caroline Quentin and Kevin Whately
Alternate/Foreign Covers
| | | | |
| --- | --- | --- | --- |
| | | | |
| Paperback | Alternate Paperback | German | |
Read an Extract
There is a lot that I can remember about that night. Unfortunately. Like the sensation of flying through the night sky, seconds after losing control, my legs and arms flailing weightlessly. The car from which I had been flung in that split second of destiny was twirling and spinning likewise in the air behind me, its headlamps flashing crazily around the sky like searchlights, after we had both hurtled headlong up a steep bank and lunged onwards through the hedgerow and into space.
Loud music filled the air – the car stereo was still blasting away with the pounding music of Chris de Burgh. As the world beneath me turned upside down, I heard the words I shall never forget: "Don't pay the ferryman, Don't even fix a price, Don't pay the ferryman, Until he gets you to the other side…."
There was a loud thump and a sudden silence as the car crashed to the ground first, the force of the impact cutting its engine, stilling the music and blacking the headlights seconds after they had illuminated a shadowy corner of the ploughed field into which we had both been somersaulted. Gone too was the scream of metal fracturing under stress. There was a newer kind of silence, an eerie stillness after my body landed with a sickening crump seconds later and lay, skewed awkwardly on the ground, facing up at the stars…
What the Critics Say
"A personal story which is frank and moving. Gripping from the very first page." Amazon