Shrink - The Diet for the Mind
Philippe Tahon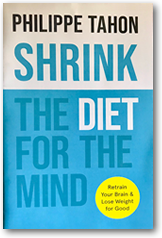 Philippe Tahon has made a thrilling discovery, and it's something many of us will want to know.
This highly sought-after London psychotherapist has created a unique set of tools that not only enabled him to lose five stone, but is now doing the same for hundreds of others. In Shrink, Philippe shares his easy programme and teaches you to eat mindfully, intuitively and positively, he encourages you to throw away the rulebook and free yourself forever from emotional eating and the diet trap. By being mindful we can tell how hungry we really are. Using our intuition, we eat only what our body knows is good for us, and when. By eating positively, we no longer regard food as the enemy but make friends with it, embracing it for the pleasure and nourishment it brings.
The simple beauty of this hugely successful programme is that it allows you to 'think like a shrink' and have the body you really want - for life.
Alternate/Foreign Covers
| | | | |
| --- | --- | --- | --- |
| | | | |
| Italian | | | |