Kill Switch
Bill Shaw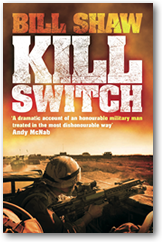 From surviving a terrorist attack in Northern Ireland to an assault course of experiences in Iraq, Bosnia and Columbia, Major Bill Shaw had seen it all.
But Bill's courage was tested to its limits when he was arrested for a crime he did not commit. Posted to Afghanistan after two years in Iraq, the married father and grandfather who'd risen through the ranks to become a commander of men and an MBE, never expected to find his own life at risk under a corrupt legal system. Thrown into prison and forced to share a cell with sixteen Afghans, including members of the Taliban and al-Qaeda, Bill had no idea when, or even if, he would see his family again.
Gritty and gripping, this powerful military memoir is an eye-opening account of life on the frontline.
Read an extract from this book
Read an Extract
The prison gate slid open and then slammed shut behind me. The sound of metal against metal jarred my ears. The Commandant had promised to put me with the only other "Englishman" in his custody which I assumed meant a two-man cell.
That was until I saw what may ahead of me within the forbidding walls of the Kabul detention centre that rainy afternoon in March 2010. It was immediately clear to me that the place where I was about to be wrongly incarcerated was unfit for human habitation. The walls were cracked, the floors pitted, and the entire building smelled of decay and poor sanitation.
The 25 m long corridor that stretched before me was flooded and yet so overcrowded that scores of Afghan and foreign inmates had no choice but to huddle along it. The majority stood in striped uniforms or sat draped in old blankets, while others lay in dirty puddles, their eyes staring out of faces gaunt with hunger, despair – or both.
What the Critics Say
A dramatic account of an honourable military man treated in the most dishonourable way. - Andy McNab