Central 822
Carol Bristow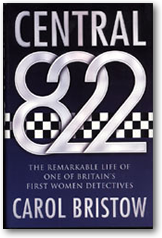 'Why not join the Metropolitan Police?' A chance glance at the large poster pinned to a noticeboard outside Wembley Police Station in 1964 changed Carol Bristow's life. Aged twenty-two, with eight dead-end jobs behind her, she knew there must be a world beyond the typewriter. Little did she know what the next thirty years would hold.
Proud in her blue serge uniform, Carol was all set to take the police force by storm. From her early days as a rookie, she was involved in dangerous and often hilarious cases dealing with the prostitutes, runaways and pickpockets of the swinging West End of London.
But being a simple WPC was never enough for Carol. Against all advice, she signed up to join the CID, one of the last male bastions, where many officers had never worked alongside a woman before. From then on, her career became a veritable roller coaster ride. Using her call sign "Central 822", she rose through the ranks and became the first woman detective sergeant on the Flying Squad, to be trained as a firearms officer, and later a detective inspector on the Drugs Squad.
All life's experiences awaited her, including a celebrated encounter with the artist Francis Bacon, a terrifying moment in the sights of an Arab terrorist's rifle, and some unusual adventures with the sex dens and drugs barons of London. But the core of her work, for which she acquired an unequalled reputation, involved the detection of rape. Carol dealt with innumerable allegations of serious sexual assault, interviewing many of the shattered victims herself – a job which took a personal toll. She dealt with the Ealing Vicarage Rape, set up the first Sexual Assault Unit in the Met and became the unofficial police spokeswoman on sexual offenders.
One case, above all, came to haunt her: the rape and murder of the beautiful Australian heiress Janie Shepherd, by a man whose campaign of violence had run parallel with Carol's police career. As her early retirement through injury loomed, she was determined to see justice done for the young woman who epitomised all the rape victims she had ever known.
Central 822 is a powerful testimony to an extraordinary life working with extraordinary people, an autobiography of a woman who joined the police force by chance and then worked tirelessly in her battle against crime. Serialised on BBC Radio 4's Woman's Hour Book of the Week.
Read an extract from this book
Alternate/Foreign Covers
| | | | |
| --- | --- | --- | --- |
| | | | |
| Paperback | | | |
Read an Extract
The Heckler & Koch MP5 sub-machine gun was the most menacing piece of machinery I've ever held in my hands. When my finger exerted the slightest pressure on the trigger, the noise it made was incredible and the vibration from the rounds as they powered out of the weapon rattled the fillings in my teeth.
Once my training was complete, I was sent back to Scotland Yard, the first woman 'shot' on the Flying Squad. This meant that from now on, God help me, I could be called upon in any situation where it was thought that firearms might be used against the public or the police. Whenever I presented my pink card, I would be handed a weapon and live ammunition and within minutes could be facing a real life high street bank robber, with a real life young Mum standing behind him. I prayed that I would never be called.
My prayers were not answered; I hardly had time to introduce myself to my new colleagues before rushing out on 'operations', So many times I seemed to be up at dawn, then was left to sit in the back of vans for hours on end, waiting for the 'job' to come off. The anticipation was indescribable and if I was one of the unfortunate shots chosen for that day, then I would feel like a wound-up spring until I'd safely returned my Smith & Wesson to the armoury...
There weren't any holster belts small enough to fit around my waist – the only ones that did invariably flapped around my knees, which was no good to anyone and made me look more than a little obvious. So I was given the smallest holster available and punched symmetrical holes in the leather so that it could be done up tight round my middle.
Another shot would be paired up with me and we sat side by side in the back of an unmarked Transit van, ready to be the first out of the doors if we spotted the armed robbers we had all been trailing for weeks. If the job looked like it was on, it would be 'Go! Go!' Go!' and no turning back. As I flew out of the doors and across the street, seeking out my targets and hoping to hell that they wouldn't fire at me, I would take in every detail of the scene in those first few seconds. It was always a scary time, with my eyes darting left and right to try and identify the robbers and distinguish them from any innocent passers-by.
Once spotted, I had to focus my attention on the man in my sights, watching his every move, trying to assess whether or not he was going to draw his weapon and fire. Hoping fervently that he wasn't going to do anything stupid …I would hear my own voice reciting again and again in my head: 'Stop. Armed police. Put down your weapon.' It would take a few more seconds before I realised that the drum beating in my ears would have drowned out any response.
What the Critics Say
"The image of the savvy policewoman cutting a swathe through a hostile male enclave has never been more seductive" Guardian
"Un-put-downable!" The Times
"Compelling." Daily Mail