5 Minutes of Amazing
Chris Graham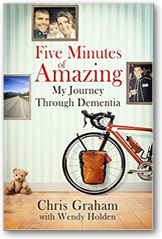 This story poses a profound question - do we accept the hand that fate deals us, or do we battle to make the most of the life we have and help others in the process? Chris Graham, just 38 years old but already facing the advanced stages of Alzheimer's disease, has emphatically chosen the latter. Having lived through a troubled childhood, Chris joined the British Army at a young age and found that the life of a soldier provided him with a much-needed sense of stability. However, his world was turned upside down when, at just 34 years of age, he was diagnosed with a form of early onset dementia. This brutal disease had already claimed the life of his father at 42, along with several other members of his family, and tragically had already confined his brother to a nursing home at the age of 43. In his brother's life, Chris could see a terrifying window into his own near future.
Chris, though, is an extraordinary human being. Having been handed nothing less than a death sentence, he decided overnight to stand up to this horrendous disease and do something to leave his mark before it was too late. And so it was that last year, Chris embarked on an awareness-raising 16,000-mile solo cycle around North America, armed only with his bike, a sense of humour, and some good old-fashioned British grit. Leaving his ever-supportive wife Vicky and baby son Dexter at home, he took on huge challenges - for instance, the fear that the ability to discern left from right might leave him at any point while navigating an entire continent - and made it home in time for Christmas, determined to spending however long he has left pouring his love and attention into his family life.
Five Minutes of Amazing is both the story of Chris' epic journey and of his fight against Alzheimer's which is increasingly being recognised as the defining disease of our generation. Inspiring and heart-rending in equal measure, it's as important as it is moving, and it will touch everyone who reads it.
Alternate/Foreign Covers
| | | | |
| --- | --- | --- | --- |
| | | | |
| Brazilian | | | |