Uggie The Artist: My Story
Uggie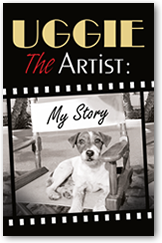 There comes a time in every Hollywood actor's life when he has to put away his puppyish toys, curl up in his bed, and bark out his memoir. This is my story.

From my humble beginnings as a pound-bound hound, I was rescued by an acting coach and trained in the craft of Doggie Drama. After a few minor misdemeanours (including Cat-Gate and some best-forgotten squirrel spats), I settled into my new role as pin-up and bit-part player in B-list movies and commercials.
An actor's life is a hard one and it was crushing to be rejected for the meatier roles: I was always too short or too hairy; the wrong breed; or I had too many requisite parts to play a she-dog. My big break came in Water for Elephants and I fell head-over-paws for my sweet-scented co-star Reese Witherspoon (more of that in the book).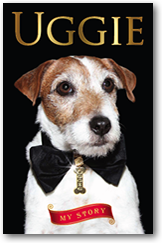 Then along came a strange little black and white French movie, which was to be silent. The rest, as you humans say, is history. The Artist became a global phenomenon and before I knew it I was mingling with the stars and sending p-mails on the red carpet. Then Reese crept back into my terrier heart…

My Story is an entertaining romp through my life as a canine superstar. Trust me, after you've read it, you'll wish you were a dog.

I lick you all. Uggie xx
Read an extract from this book
Alternate/Foreign Covers
| | | | |
| --- | --- | --- | --- |
| | | | |
| Italian | French | | |
Read an Extract
An extract from this title will be available here, following the book's official release.
What the Critics Say
The world is enchanted by Uggie!
Winner of a Palm Dog at the 2011 Cannes Film Festival
"He's the cutest dog!"
Ellen De Generes
"An emotional range as evocative as any of his human co-stars..."
Movieline editor S .T. Van Airsdale
"The best performance, human or animal, in any film I've seen this year."
New York Post film critic Lou Lumenick
"Uggie gave a wonderful performance... He's a great dog"
Martin Scorsese
"Uggie's right up there with the big ones."
Harvey Weinstein
"What a treat to meet Uggie. Oh, how I loved him!"
Goldie Hawn
"Uggie's the catch of the day!"
Katy Perry
"You have no idea how starstruck I am!"
Gerard Butler
"That was the best action I've had in years!"
Whoopi Goldberg, after being kissed by Uggie