Behind Enemy Lines: The True Story of a Jewish Spy in Nazi Germany
Marthe Cohn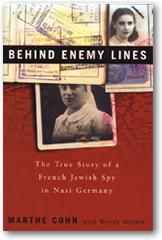 Marthe Cohn was in her late teens when Hitler was rising to power. Living across the German border in Alsace-Lorraine, her family began taking in Jews who were fleeing the Nazis, as well as the Jewish children being sent away by terrified parents. Soon her own homeland was under Nazi rule, and she and her parents, brothers and sisters were forced to live the restricted lives of all Jews. As the Nazi occupation of France escalated along with the war, Marthe's sister was arrested and eventually sent to Auschwitz, and the rest of her family was forced to flee to the south of France. Always a fighter, Marthe joined the French Army.
Behind Enemy Lines is Marthe Cohn's internationally best-selling memoir of a time and place that has mesmerized the world for more than half a century. But at its heart is the tale of an ordinary human being who, under extraordinary circumstances, became the heroine her country needed her to be.
At the age of eighty, Marthe Cohn was awarded France's highest military honor, the Medaille Militaire, a relatively rare medal awarded for outstanding military service and given, in the past, to the likes of Winston Churchill. With this award came official acknowledgement of the heroic exploits of a beautiful young Jewish woman who faced death every day as she sought to help defeat the Nazi empire.
When the spotlight was turned on Marthe Cohn, not even her children or grandchildren knew to what extent this modest woman had been involved with the Allies in fighting the evils of the greatest war of the Twentieth Century. She had fought valiantly to retrieve needed inside information about Nazi troop movements by slipping behind enemy lines, utilising her perfect German accent and blonde hair to pose as a young German nurse who was desperately trying to obtain word about her fictional fiancée. In travelling about the countryside and approaching troops sympathetic to her plight, she learned where they were going next and was able to alert Allied commanders.
Read an extract from this book
Alternate/Foreign Covers
| | | | |
| --- | --- | --- | --- |
| | | | |
| Paperback | French | French Paperback | Kindle Edition |
| | | | |
| --- | --- | --- | --- |
| | | | |
| German | Alternative French | UK Audiobook | |
Read an Extract
I forced my gaze forward, trying not to make eye contact with these people as we approached their homes. But I pictured us in their eyes – three women, three strangers, one clearly extremely frail, making a solitary crossing so close to nightfall in such an isolated spot. Only those fleeing from the German authorities would risk such a journey.
Taking a deep breath, I turned to look at the farmers again. Maybe direct eye contact would help after all, I reasoned. Maybe my silent pleas would be etched across my face. I might already have lost four members of my family today, my eyes told them, please help me save these two old women who've never done anybody any harm.
'One by one as we approached, the men stopped smoking and the women stopped talking, and they all turned to stare back at us. There was near silence as we squeaked along with our bicycle, watching them watching us.
An old man, in a dark shirt and working trousers, stood up from his rickety old wooden chair as we passed his house and stared at us intently. I returned his gaze, my hands clammy on the handlebars. Without saying a word, he suddenly dropped onto one knee and, hand on his chest, lowered his head in prayer. Next to him, his wife knelt on both knees in the dirt and made the sign of the cross. At the next house, two men fell similarly to their knees and began praying for us, their soft murmurings carried to us on the summer evening breeze.
A teenage girl, not much younger than I, stopped scratching the neck of her much-loved horse and clasped her hands together in prayer. And so on, along the row, men and women, desperately poor, urgently in need of the money they could so easily have earned from us as a reward, each one saying a prayer to guide us on our way.
I could hardly believe my eyes. It was so beautiful, the humanity of it. Tears rolled down my cheeks as I nodded my head in silent thanks to each and every one we passed. How could I, even for the shortest minute, have doubted them, these kind, simple people who were as much oppressed by the Nazis as we were? Lowering my head, I pressed on, taking my mother and grandmother to unoccupied France and, I hoped, to safety.
What the Critics Say
"A first rate story simply and movingly told…This is not only a book for fans of World War II, but one that should speak to young people who feel history is boring." Washington Post
"This compelling memoir is testament to how extraordinary circumstances can transform a life…its descriptions are powerful and tragic….the narrative becomes a quasi-thriller …without self-aggrandizement. An amazing story of a woman who lived through one of the worst times in human history… surviving with her spirit and integrity intact. This increases this book's appeal beyond the usual Holocaust memoir audience." Publishers Weekly
"Behind Enemy Lines is not what it seems. Its better. A moving and fascinating account of a French Jewish family's survival under Nazi rule, well written and potentially significant." Milwaukee Sentinel Journal/Grand Rapids Press