Lady Blue Eyes
Barbara Sinatra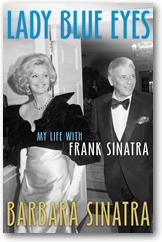 Thirty years after she first heard his voice singing on the jukebox, Barbara Ann Blakely heard Frank Sinatra take the wedding vows that began his fourth, final, and most enduring marriage.
In Lady Blue Eyes, she celebrates the husband she adored. For more than two decades, Barbara was by his side. From her own humble beginnings to her time as a model and her marriage to Zeppo Marx, Barbara Sinatra reveals a life lived with passion, conviction, and grace.
In stories that leap off the page, she takes us behind the scenes and paints an intimate portrait of a man who was variously generous, jealous, witty, and wicked. This is much more than the story of a showbiz marriage. It is a story of a deep and lifelong love.
Read an extract from this book
Alternate/Foreign Covers
| | | | |
| --- | --- | --- | --- |
| | | | |
| Polish | US | | |
Read an Extract
What the Critics Say
The widow of Frank Sinatra delivers the goods in this intimate memoir of their years together, filled with parties, recordings, career hurdles, concerts, troubles, and triumphs. Barbara Blakeley was "just a farm girl from Missouri" who became a model, a Vegas showgirl, and the wife of the Zeppo Marx…. Barbara and Frank married in 1976 and it was the longest of his four marriages. They stayed together for 22 years until his death in 1998. "Frank was, without doubt, the most romantic man I have ever met." – and that feeling permeates the pages throughout. - Publishers Weekly
Sinatra spins an interesting tale of a life lived amongst celebrity and provides an insider glimpse into a bygone era. - Booklist