In the Name of Gucci
Patricia Gucci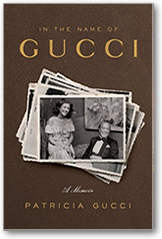 The gripping family drama—and never-before-told love story—surrounding the rise and fall of the late Aldo Gucci, the man responsible for making the legendary fashion label the powerhouse it is today, as told by his daughter.
Patricia Gucci was born a secret: the lovechild whose birth could have spelled ruination for her father, Aldo Gucci. It was the early 1960s, the halcyon days for Gucci—the must-have brand of Hollywood and royalty—but also a time when having a child out of wedlock was illegal in Italy. Aldo couldn't afford a public scandal, nor could he resist his feelings for Patricia's mother, Bruna, the paramour he met when she worked in the first Gucci store in Rome. To avoid controversy, he sent Bruna to London after she became pregnant, and then discretely whisked her back to Rome with her newborn hidden from the Italian authorities, the media, and the Gucci family.
In the Name of Gucci charts the untold love story of Patricia's parents, relying on the author's own memories, a collection of love letters and interviews with her mother, as well as an archive of previously unseen photos. She interweaves her parents' tempestuous narrative with that of her own relationship with her father—from an isolated little girl who lived in the shadows for the best part of a decade through her rise as Gucci's spokesperson and Aldo's youngest protégé, to the moment when Aldo's three sons were shunned after betraying him in a notorious coup and Patricia—once considered a guilty secret—was made his sole universal heir. It is an epic tale of love and loss, treason and loyalty, sweeping across Italy, England and America during the most tumultuous period of Gucci's sixty years as a family business.
Alternate/Foreign Covers
| | | | |
| --- | --- | --- | --- |
| | | | |
| French | German | Czech | Romanian |
| | | | |
| Hungarian | Polish | Chinese | French Paperback |
What the Critics Say
An absorbing, bittersweet tribute - Kirkus
With its themes of epic passion, repugnant greed, and nefarious treachery, Gucci's memoir is straight out of Shakespeare - Booklist
This book is particularly successful as a personal story about growing up with the weight of illegitimacy on one's young yet well-dressed shoulders - Publishers Weekly
Poignant, honest and melancholic - New York Journal of Books