The Beat of My Own Drum
Sheila E.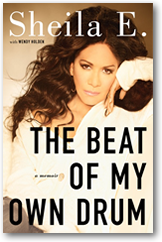 From the Grammy Award–nominated singer, drummer, and percussionist who has shared the stage with countless musicians and is renowned for her contributions throughout the music industry, a moving memoir about the healing power of music inspired by five decades of life and love on the stage.
Sheila E., born Sheila Escovedo in 1957, picked up the drumsticks and started making music at the age of three, inspired by her legendary father, percussionist Pete Escovedo. Two years later, she delivered her first solo performance to a live audience. By nineteen, she had fallen in love with Carlos Santana. By twenty-one, she met Prince.
The Beat of My Own Drum is both a walk through four decades of Latin and pop music—from her tours with Marvin Gaye, Lionel Richie, Prince, and Ringo Starr—to her own solo career. At the same time, it's also a heartbreaking, ultimately redemptive look at how the sanctity of music can save a person's life. Having endured sexual abuse as a child, Sheila credits her parents, music, and God with giving her the will to carry on and to build a lasting legacy. Rich in musical detail, pop and Latin music history from the '70s and '80s, and Sheila's personal story, this memoir is a unique glimpse into a drummer's singular life—a treat for both new and longtime fans of Sheila E.
And above all, it is a testament to how the positive power of music serves as the heartbeat of her life.
Read an extract from this book
Read an Extract
FOR a long time, and well into my adult years, I was afraid of the dark. I had to sleep with a light on; drawn towards it like a moth. Some nights, I'd wait until sunrise before going to bed.
Over time, I realized that the blackness was only a reminder of a different kind of gloom - a relentless, debilitating fear that stemmed from some unspeakable memories. Within a blessed childhood, a few isolated incidents had filled me with a secret shame that might have imprisoned me forever had I allowed it to.
With the gift of music, God, my family and friends I learned to readjust the skewed image I saw whenever I looked in the mirror. The girl in my own reflection found a sacred outlet for all her guilt and rage by beating on a drum - just as my father had conquered his childhood demons before me.
Now I'm grown and no longer shackled by my past. I no longer think of myself as ugly. I have rediscovered joy and trust. I am persuaded of my own innocence. The darkness doesn't frighten me any more. I am not a moth after all.
I am a butterfly. I am filled with color and light. I am soaring free…
What the Critics Say
Extraordinary…Sheila E. has produced a standout celebrity memoir…In what is ultimately an inspiring story of survival over adversity and fulfilling her potential as an artist, Escovedo's disarming honesty, humble nature, and level-headed sweetness are the memoir's steady beat. - Publishers Weekly
Candid and uplifting. - Kirkus
Engrossing...the memoir has an arresting rhythm...after reading Sheila E.'s moving and restorative story, you will have an even greater appreciation for her as an artist and as a woman. - Essence.com