Smile Though Your Heart is Breaking
Pauline Prescott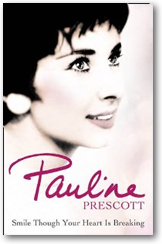 Pauline Prescott's life story reads like a Catherine Cookson novel. From the death of her father to her brother's life-threatening illness, little 'Tilly' Tilston experienced much sadness as a child. At sixteen, she found herself pregnant and alone.
Sent to a former convent, Pauline gave birth to a son Paul in 1956. Resisting all attempts to give him up for adoption, she struggled on for three years until she was finally persuaded it was for his own good. She never expected to see him again. As a young hairdresser, she fell in love with John Prescott, a dashing ship's steward and union activist, never imagining that one day she'd be married to the Deputy Prime Minister---and know all his speeches off by heart.
In this warm, moving and humorous autobiography, we learn what the real Pauline Prescott is like – a loving daughter and mother, and a loyal wife and friend. In her own words she tells of the ups and downs she has endured, including her emotional reunion with her son Paul more than forty years after she let him go, and how she dealt with her husband's affair. She relives her experiences of travelling the world, attending royal functions and the behind-the-scenes dramas of political engagements.
On their wedding day John promised Pauline that, whatever happened, she'd never be bored. He certainly kept his promise. Loyal, sharp, good humoured and articulate, Pauline has entranced the nation. Warm, moving and at times painfully sad, Smile Though Your Heart is Breaking is an honest account of a fascinating life.
Read an extract from this book
Read an Extract
"I LAY on my narrow metal-framed bed, hands across my tummy, and felt the life inside me stir. Relishing the silence of the dawn, I knew that Sister Joan Augustin would burst into the dormitory any minute clanging her bell to get us up and bathed for morning prayers.
It was December 25, 1955. Enjoying a few more seconds' peace, I allowed my mind to drift back to the fifteen Christmases I'd already known or at least those I could remember. Each year, my Mum and Dad would roll the carpet back and dance across the living room to the songs of Fats Waller or The Inkspots playing on the gramophone. Under dangling paper chains Dad would waltz me laughingly around on his feet, clinging to the back of his legs until I was giddy.
The best part was when my brother Peter and I were allowed to open the presents my parents had placed either side of the fireplace for us. Apart from the usual apple, orange and banana, there would always be some special gift they'd saved especially hard for - like my brother's bicycle or the sleeping baby doll I'd coveted ever since I'd spotted it in Garners Toy Shop window. When the doll was replaced by another just before the school holidays, I cried all the way home. To my astonishment, there she was on Christmas morning, batting her long eyelashes at me. From Mum's wages as a part-time cleaner and my father's as a bricklayer a little money had been put into a savings club until there was enough.
Now aged sixteen, I was about to give birth to my own baby doll - the one I prayed would bring back its airman father from wherever he'd returned to in America. I'd written and told him about our child but he hadn't replied yet. Maybe once the baby was born, he'd divorce his wife and send for me to marry him like he'd always promised he would.
I thought back to Christmas two years earlier; the first that Mum, Peter and I had faced a few months after we'd watched Dad's coffin being lowered into the ground. That Christmas, I was invited to a party at the local American airbase for children who'd been orphaned or bereaved. A scrawny fourteen-year-old, I'd stepped nervously into that mess hall and thought I'd been transported to Hollywood. The scene was like something in the movies that transfixed me every Saturday afternoon at the Regal cinema in Foregate Street, Chester. The hall was filled with clowns, balloons and entertainers. A trestle table groaned under oversized platters of exotic food. There was cream and frosted icing, the likes of which I hadn't seen since before rationing. Smiling shyly at the handsome men in uniform who reminded me of Rock Hudson or Clark Gable as they handed out gifts, I was star-struck."
What the Critics Say
Riveting…harrowing…and nicely written Daily Mail
A thoroughly likeable tale from a thoroughly likeable woman, of triumph over both social adversity and poverty, a rather moving love story and…a tear-jerker The Times
A hilarious and candid memoir…from a smart and sassy woman Daily Telegraph
Touching, warm, funny and uplifting Amazon