Till the Sun Grows Cold: Searching for my Daughter, Emma
Maggie McCune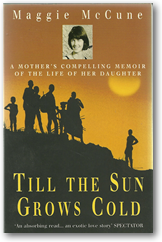 Emma McCune was vibrant and beautiful when she went as an aid worker in 1989 to help children in war-torn Sudan. But her life changed dramatically when she fell in love with Riek Machar, a charismatic war lord in the Sudan People's Liberation Army (SPLA), and married him in a simple bush ceremony. Despite her personal happiness and the devotion of Riek's people, rifts between rival factions of freedom fighters put a price on her head. And at twenty-nine, when she was expecting their first child, her life was tragically cut short.
Till the Sun Grows Cold is Maggie, Emma's mother's, spiritual journey from India, where she was born, to England and Africa in search of her own past and its resonances with her daughter's extraordinary life. It is a personal odyssey: an attempt to make sense of her daughter's brief existence from an unconventional middle-England childhood – in which she witnessed the break-up of her parents' marriage and her father's bankruptcy and suicide – to her dangerous life on one side of Sudan's civil war, a life which Emma recorded in diaries at the time.
Till the Sun Grows Cold is a voyage of discovery about Emma and Maggie, revisiting both their shared and separate pasts. Maggie McCune writes from the perspective of a mother who, upon her daughter's death, must look back and ask, 'How did we get from there to here?' and movingly weaves together Emma's own fragmentary accounts of her life in Sudan and her own very unusual story.
Read an extract from this book
Alternate/Foreign Covers
Read an Extract
The air was hot and still, flies buzzed around our mouths and eyes, the arid red soil crumbled at our feet. A waft of something sweet and sickly assailed my nostrils, already filled with the stench of sweat and the pungent smell of burning cattle dung. We walked on through the heat towards the oval-shaped half-acre compound, which was fenced off with eight-foot high stakes tied tightly together with grasses. Once inside the main entrance, I caught sight of the specially prepared grave, dug to one side of Emma's tukul, a deep vault lined with concrete to prevent human or animal desecration. As each step brought me closer to it, a rhythmic pounding jolted through my body, in time with my heart. I began to feel myself melting into the amazing pageant all around me – the colours and sights and smells, the heat, the thousands of people who each felt something for Emma, who had an equal right to be there and weep at her graveside with me. I was part of something much, much larger, I suddenly realised; I was not an individual any more, but becoming one with an experience which was uniting people of radically different cultures in a single grief. My family and I were truly the outsiders, the pale-faced foreigners in a foreign land, graciously invited to witness an ancient rite of passage that had its roots in the annals of time. For the first time since Emma's death, I began to see that, in a sense, this was not my occasion at all, but ours…
We entered the burial area and pushed our way through the sweaty throng which had stopped ahead of us and was waiting, silently. We shuffled slowly closer to the grave. The sickly sweet smell I had encountered earlier greeted me once more and its source now lay before me. A cow had been slaughtered in honour of my daughter, its dark red essence congealing and seeping into the dusty earth beside where Emma would be buried, its dead eyes staring up at me, blood bubbling at its nose. Someone behind pushed me forward, indicating that I had to step over it, in accordance with time-honoured traditions I knew nothing about.
One thousand dark eyes bored into me, watching my face for a reaction. I must have seemed a very strange sight – a slight, grey-haired Englishwoman, eyes behind sunglasses, face ashen. I hardly looked capable of bearing the statuesque and beautiful Emma, she of the distinctive laugh and irrepressible energy. Women unknown to me were weeping openly, keening and wailing quietly for my lost child, and yet I felt incapable of tears, as if I were in some sort of trance. It was all I could do to remain upright in the blaze of emotions tearing at my heart…
What the Critics Say
"Maggie McCune grips your attention immediately and you know you will go on reading until the very last page." The Yorkshire Post
"Beautifully written, Maggie McCune's life and that of her daughter are intertwined with tragedy and courage. A masterpiece." Bildzeitung (Germany)
"Her story will be an inspiration to other young women." The Daily Mail (UK)
"Intensely moving, gripping from the very first page." Algemeen Dagblad (Holland)
'Compelling.' The Times (UK)