Good Vibrations
Jacqueline Gold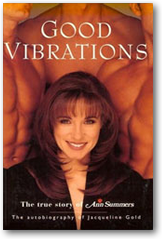 Good Vibrations charts the rise of Ann Summers and its charismatic boss, Jacqueline Gold, who belongs to one of Britain's most extraordinary business families.
It tells the story from the days when her grandparents bought up books and comics used as ballast in container ships from America and sold them on an East London stall. It charts the family's success as leading publishers of top-shelf girlie magazines, and it recalls the acquisition of Britain's first sex supermarket in 1971.
At the tender age of twenty-one, working as an office junior in her father's business, Jacqueline saw the potential of selling sexy lingerie and sex aids to women in the privacy of their own homes, and quickly transformed Ann Summers into a multi-million pound concern and one of the world's leading party plan businesses.
Jacqueline tells her story with candour and enthusiasm, showing how she has fought off misconception and innuendo with a determination to succeed. Set to take over one day as chairwoman of the family's £100 million empire, Jacqueline Gold will undoubtedly become one of Britain's highest-earning female executives in an industry that has long been dominated by men. She will also continue to be an inspiration to thousands of women already devoted to her and her campaign to redress the balance in Britain's sex industry.
Read an extract from this book
Read an Extract
Sitting in a smoky room full of women in a council flat in south-east London, trying to draw a picture of my husband's 'meat and two veg' on a piece of paper placed on top of my head, may not seem the most traditional way of becoming inspired to start a multi-million pound business empire – but that is exactly how I got started.
It was spring 1981; I was twenty years old and earning £50 a week as an office junior in my father's company. I had certainly never seen anything like the scene before me in that small flat in Thamesmead. Laughing women sat side by side, crammed together on sofas and on the floor, passing round lingerie and marital aids as if they were pieces of fruit at a street market. Naïve for my age, tongue-tied and still painfully shy, I was both embarrassed and exhilarated by the enthusiasm surrounding me. I watched wide-eyed as the party organizer stirred the group of giggling women into a frenzy of hysteria as she produced the Double Dong – a double vibrator for the brave of heart. The screams of laughter must have been heard throughout the tower block.
What the Critics Say
"Sassy and fun….a must-read for anyone whose ever had a great night out at an Ann Summers party." The Daily Star