Fools Rush In
Anthea Turner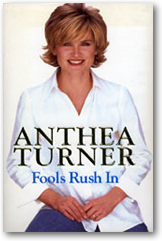 When it comes to modern celebrity, few can claim to rival the extraordinary high profile of television presenter Anthea Turner. Just say her first name and she is instantly recognisable. Her career has seen her host the best of British television, including Blue Peter, Top of the Pops, GMTV, Wish You Were Here and National Lottery Live, release a million-selling fitness video and launch a successful clothing range. Now, for the first time, Anthea reveals the truth behind her roller-coaster ride to that place known as Planet Fame.
Anthea candidly recounts her life from her humble beginnings to the present day, chronicling her awkward teenage years, her struggle with undiagnosed dyslexia, and the tragic death of her sister Ruth. She almost inadvertently rose to the pinnacle of celebrity status and the controversy that it can bring. Fools Rush In tells of the highs and the lows in her long and varied career…
Fame comes at a heavy price and Anthea's success has been more than matched by the tabloid interest in her personal life. In Fools Rush In, she offers a frank and revealing insight into the stories that hit the headlines. Forthright, emotive and inspiring, this is Anthea Turner as she has never been seen before.
Read an extract from this book
Read an Extract
The sun was high in the sky. Radio 1 was playing somewhere softly in the background…My sister Ruth was sitting alongside me, sunbathing in the back garden of my parents' bungalow on the outskirts of a small village not far from Stoke-on-Trent…Ruth had just come home from her latest spell in hospital and Mum suggested we have a quiet day with our younger sister Wendy, who was inside somewhere inside playing at dressing up…
I opened my eyes and reached for a glass of Tizer. Looking up, I noticed Ruth looking sweaty and a little pale. As if reading my thoughts, she said, 'Mum, I don't think I feel terribly well.'
My mother put down her book, checked her temperature with the back of her hand, peered into her eyes and did the things she always did when Ruth was under the weather. 'Why don't you go inside and lie down for a while, darling?' she suggested gently. 'Perhaps you've had a little too much sun.'
She helped Ruth manoeuvre from the sun-lounger into her wheelchair, make her way up the ramp and in through the patio doors….Mum, ever vigilant, followed her to see that she was OK….
Hearing a commotion inside the house, I opened my eyes. Jumping up, I pulled my T-shirt quickly over my bikini in case we had visitors. We did: the doctor from the surgery across the road. A few minutes later, my Dad suddenly appeared, breathless. He was never at home in the middle of the afternoon. I stood, frozen, and watched my mother talking to him urgently in the hallway. There was something about her expression that made my pulse race.
'What's the matter?' I called, but I think I already knew.
'Its Ruth,' Mum said, her voice tremulous. 'She's very poorly.'
Ruth was lying on the bed, pink and struggling for breath. 'I don't feel so good,' she said weakly, her eyes closed. 'I feel dizzy.' Dad sat beside her and patted her hand with that same pinched expression on her face.
When her breathing suddenly became ever more laboured, she opened her eyes and stared up at him. 'Help me –Daddy--,' she pleaded, taking her breath in great gulps and reaching out to the man who, with my mum, had looked after her every day of her life. 'Help me.'
That was the last thing she said. A few moments later, the gulping stopped and she let out a long, single sigh. Time seemed to stand still as we all stared down at the bed expectantly, waiting for Ruth to inhale. But she never did.
What the Critics Say
"The show business autobiography of the year…a devastatingly honest and frequently self-critical account." The Daily Mail
"Heartbreaking and candid." The Sunday Mirror